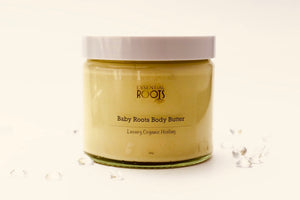 Soothing calendula petals and our proprietary blend of organic butters and oils are whipped into a light and fluffy butter, a beautiful moisturising blend that is perfect for you and your baby's soft and delicate skin. This product has a wonderful light chocolate scent.
100% natural with no hidden nasties or chemicals. Packaged in glass jars that can be recycled.
Directions: Use a small amount of the butter and massage into the palms of your hands until it melts into an oil, then gently massage into the skin. 
Great to use after bath time! 
Ingredients: Calendula petals, organic cocos nucifera (organic extra virgin coconut oil and our proprietary blend of unrefined organic butters.